"ADVENTURES OF CELLO" Cello Goes To School
by Cello Wattley
About the Book
Get ready for a dino-mite adventure as Cello, the curious 5-year-old with an insatiable love for dinosaurs, embarks on his first day of school! In this heartwarming and hilarious tale, young readers will join Cello and his delightful cast of family and friends as they discover the wonders of the classroom.

With a supportive family, including Doctor Daddy, Doctor Mommy, and big brother Austin (the burger-loving giant), Cello sets off on a journey that's filled with laughter and learning. Alongside his stylish best friend Lukas and two sneaky dalmatians, Lex and Bentley, Cello explores the joys of school life, making new friends and discovering the magic of the letter C, which just happens to be the first letter of his name.

This charming story teaches young readers the importance of curiosity, courage, and camaraderie as they follow Cello's adventures in a colorful, fun-filled kindergarten world. Cello Goes to School is a delightful book that will leave children excited about their own school experiences, all while learning about the letter C and the joy of making new friends.
Features & Details
Primary Category: Education
Additional Categories Cartoon, Action / Adventure
Project Option: 6×9 in, 15×23 cm
# of Pages: 26
Isbn
Publish Date: Sep 23, 2023
Language English
Keywords

toddlers

,

school

,

education

,

kids

,

kindergarten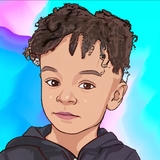 Cello Wattley: The Adventurous Author! Meet Cello Wattley, a funny and smart 5-year-old boy who loves writing books in his series, "The Adventures of Cello." He's also a gymnast, a brother, and a son. Cello's mom and dad, who are doctors, teach him to be kind and helpful to others. Cello is lucky to have two sets of grandparents who spoil him, but he appreciates them and enjoys spending time with them. He loves his funny brother, Austin, and his silly sister, Kaylee. Cello makes friends easily and enjoys playing dinosaurs at the park. In his backyard, Cello is adventurous, swimming, and running around, proclaiming, "I am the KING of the world!" With his imagination, he writes exciting stories that make kids giggle and dream big. Cello Wattley is an inspiration, reminding us to be kind, imaginative, and follow our dreams. Get ready for more adventures with Cello, the talented and adventurous author!