Grandarling (Paperback)
Lessons on Laughter, Love, Loss, and Life
by Rebecca Pan
About the Book
There was a string between us.

That is how Renée, the woman who became Grandarling, describes meeting Rebecca, her new-born granddaughter.

These words proved prophetic. What began as a memoir project blossomed into a voyage of discovery. While Renée spent her life with her eyes fixed firmly on the future, Rebecca took a deep dive into the past and came to learn not just about her family, but more than she ever expected about love, laughter, and life itself.

Grandarling has lived her long and extraordinary life exhibiting an enviable combination of joy, resilience, and compassion that has become a model for the generations to follow. She has imbued in them her strength, her boundless love, and her values of acceptance and simply doing what is right.

This journey of Grandarling focuses on exhilarating joy and love, returning to it time and again despite serious life challenges and devastating loss. At each turn, when given the option to sit it out or dance, she has emphatically chosen to dance—celebrate life, cherish her family and friends, and embrace the opportunities to come.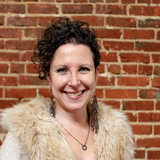 Rebecca Pan is old to reading and new to writing. This, her debut book, is a lesson on how to live in the light. Though not in the manuscript, it's also been a lesson on how one goes about writing a memoir. Rebecca lives in San Francisco with her extraordinary husband Jason and delightful son Sawyer. They had three cats, but Sawyer is allergic and it is frowned upon to choose cats over kids. Before she undertook this book, she earned a BFA from the University of Pennsylvania, graduating Magna Cum Laude. Her career has taken her from Philadelphia to New York City to San Francisco. She's launched seven enterprises ranging from the graphic design firm Tribecca Designs, Ltd. to coworking companies including NextSpace, Covo, and Trellis, and two non-profits, one focused on children's literacy. This book has helped inspire Rebecca's next project—a children's book series to build open-hearted values in children as they learn to read.