Igbo Deities
Igbo African Renaissance Art
by Sirius Ugo Art
This book is available to buy on Amazon
About the Book
The aim of the rebirth of the sacred arts of Igbo African spirituality by Sirius Ugo Art is to restore the glory of African methodology, and unveil the hidden African intelligence in our spiritual systems. As we are the ones witnessing the beginning of Uga Anwu, the age of enlightenment, it is our duty to lay the foundations of Anwu for the next generation.

All the arts in this book were shot and digitally created by Sirius Ugo Art. They were all based on the fashion, designs, and decorations of the ancient Igbo people. Spirits are not human beings, however, spirits are manifested in human form because humans are spiritual beings experiencing materialism. The colors of the deities are also well-known in ancient Igbo. When a spirit is pure white, it represents purity, or the moon and sun. When a spirit is green, it represents life, health and Fertility. When a spirit is red, it represents blood, war, and power. When a spirit is dark in color, it represents dark energy. When a spirit is blue, it represents water, and air. All the deities work with one or two of the four elements. For example, Agunkwo works with Eke, while Nneono Oshimiri works with Orie. There are over seven hundred thousand Igbo deities. It would be impossible to create the arts of all Igbo deities, because that would be one claiming to understand all the energy forces in the universe, which is impossible. However, all the energy forces (Umu agbara nine) of the universe are different manifestations of Chukwu na Nnechukwu. Igbo people do not believe that humans created umu agbara. Igbo enlightens us that Umu Agbara (Energy forces) existed before humans. And that humans came to recognize them and work with them to become Agbara as well. A human being becomes Agbara through self Illumination.
Features & Details
Primary Category: Arts & Photography Books
Additional Categories Graphic Design
Project Option: Standard Landscape, 10×8 in, 25×20 cm
# of Pages: 198
Isbn

Hardcover, ImageWrap: 9798211995123

Publish Date: Sep 04, 2022
Language English
Keywords

Afrofuturism

,

African Spirituality

,

IGBO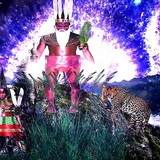 Sirius Ugo, The Chief Creative Director Of SIRIUS-UGO-ART Is an: Afrofuturist, Polymath, Visionaire, Filmmaker, and an Art Director. Sirius Ugo is an art generalist who hitherto, used to just paint and draw for Art's sake, or rather for the "love" of art. However that took too much of his time and so he learnt to paint with light-(digital+film). Sirius Ugo has spent all his life as a creative who metamorphosed into the world Afrofuturism, and that prompted his creation of the Igbo-Renaissance-Art.