About the Book
Who ever heard of anyone singing all four voices: soprano, alto, tenor and baritone? Such a person existed, a shepherd in the mountains of eastern Italy. Deep in his throat is his vocal cord family, Maria, Mimi, Roberto, and Carlos as his sole companions, singing the night away. How could this boy go from the serenity of caring for his flock of sheep, to fame in the halls of the La Scala Opera House?
Features & Details
Primary Category: Children
Additional Categories Fairy Tales, Baby
Project Option: 8×10 in, 20×25 cm
# of Pages: 24
Isbn

Hardcover, ImageWrap: 9798210551122
Softcover: 9798210551115

Publish Date: Aug 03, 2022
Language English
Keywords

singing

,

shepherd

,

opera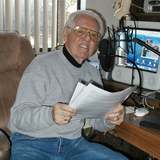 FELIX MAYERHOFER, born in Port Chester, NY, had three careers: A professional trombonist for 14 years, school band director for 27 years, and since retirement, a children's author. He and his late wife Shirley, a former professional dancer, have a son, David, a professional photographer.