Most bookmaking projects start with the same first step: an idea. After that, the journey is different for everyone right up to the moment they publish. Wherever your journey takes you, though, you'll reach an important step every bookmaker faces: How to choose the best type of paper for your book.
Before you start putting your creativity on the page, you've got to make some decisions about the pages themselves. The type of paper you use for your book will impact just about every facet of your publication from the get-go, including factors like size, layout, page count, image quality, portability, and durability. Choosing the right paper for your book means asking yourself a number of critical questions—both creative and functional ones—and learning how different types of paper suit different needs.
We'll cover all of that here. Trust us, you'll be glad you knew all this going into your project. It'll save you some time, and your finished project will absolutely be better for it.
Pro tip: If you're a seasoned pro or avid book lover and already know a bit about paper, jump directly to our list of paper types below, with all the specifics on Blurb paper types by format for your photo book, trade book, or magazine.
First, what type of book are you making?
The first step in narrowing down your paper type is to simply identify what you intend to publish. Blurb offers multiple formats, from expansive hardcover photo books to high-volume trade books and magazines, in eight different sizes. Those variables determine what paper selections are available, and the paper choice can also impact how many pages you'll be able to fit in the binding.
Once you have a basic idea of your book type, its trim size, and how many pages you need, it's time to consider the paper itself—which can be hard because the paper industry has so many options.
Paper basics
Any paper, from printing paper to acid-free paper, will have a few key things in common. Let's go through a few basics before we start discussing the types of paper Blurb offers like weight, coating, color, longevity, and price.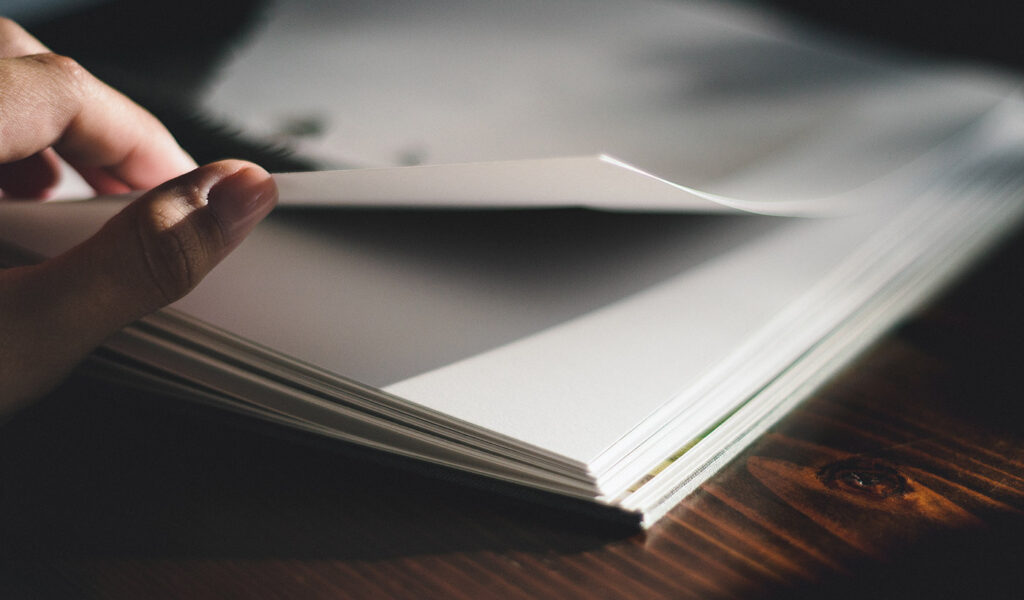 Weight
A paper's weight, which generally corresponds to its thickness, is measured in either pounds (lbs. or #) or grams per square meter (GSM). If you're already familiar with different paper weights, great! We list that value for every paper we offer—whether it's lightweight paper or heavy matte coated paper.
In this guide about paper types, we'll use more practical terms, ranging from extra light to extra heavy. Think of this range as the difference between a thin novel page and a seriously thick page in a premium art book.
Generally speaking, a heavier type of paper will hold more ink and be preferable for full-color pages. Lower paper weight will be more suitable for text-heavy and high-volume publications and allow for higher page counts in a single binding.
Coating
Paper can also be loosely grouped into two categories: coated and uncoated. Coated paper can have a variety of different gloss levels (its shininess), from just a hint of gloss to full gloss. Uncoated paper will have a matte finish, with no gloss at all—though its texture can still vary, from smooth to more textured.
All of these paper types have their own strengths, depending on what you're printing. For instance, images printed on high gloss paper may pop more on the page, while images on matte paper will change less under the light. This guide lists the coating status of each paper type, along with how that coating will impact color and other factors.
Color
The color of the paper doesn't necessarily refer to its hue—although that can be a factor, too. When we talk about paper color, we mean how white or creamy it looks. A whiter piece of paper will produce brighter colors and sharper contrast while a creamier piece of paper will appear more muted.
As a general rule, the more bright white a sheet of paper is, the more accurate the print color reproduction will be. This also usually equates to a higher quality, more expensive paper. More economical sheets, on the other hand, tend to have less brightness with a slightly yellow tint and that will impact the color reproduction.
If you have a color-critical project, like a fine art or photography book, the whiter the sheet the better and the more realistic the color reproduction will be!

Blurb also offers cream paper with black and white printing—this is for text-heavy book projects. The cream paper helps reduce eye strain, making it an ideal choice for novels, anthologies, and other content-rich books.
Longevity (archival quality)
Most inexpensive paper stock contains a naturally-occurring part of plant cells called lignan. As that lignan breaks down over time, it becomes acidic, which causes the paper to become brittle and yellow. If you've ever looked at old newspapers or school assignments, you've seen what that acid can do to paper. The effect is sped up by light and heat, but, even stored in a cool, dark place (like a basement shelf), regular paper will break down over time.

Because we believe every book should be built to last, all of Blurb's paper offerings are acid-free—and different coatings can extend the life of the paper even more. For example, the coating on our archival-quality Mohawk Pearl paper is made to last more than 200 years. The great-great-great-great grandkids will really appreciate it.
Price
Besides the layout and content of your project, price is also going to be an important factor to consider. Even us paper superfans know that ultra-premium heavyweight paper isn't the best choice for every publication—a punk zine passed out at a mutual aid fair might not require the same quality as a memorial book for your great grandmother meant to last generations.
Each Blurb book trim size and paper combination has its own base price, plus a cost-per-additional page. So if you're printing hundreds of copies of a trade book or plan on listing your book for distribution, you'll want to seriously consider how your paper choice will impact your costs. And if you're printing a single keepsake, you might decide a pricier paper is worth every penny.
Sustainability
The pulp used in papermaking comes from trees—and, as you might expect, that process has an environmental impact. To help make print products more sustainable, there are various methods to reduce that harm.

At Blurb, we have a variety of paper types produced by manufacturers committed to the Forest Stewardship Council (FSC). Any paper branded with this logo promotes the responsible management of the world's forests, bringing together experts from the environmental, economic, and social spheres.
A note on test books
All the descriptions in the world won't tell you as much about your book's paper as actually holding a copy will. Whether you're only printing one copy, or plan to print multiples, making a test book will benefit you greatly, and ensure you're on the right path.

When you think you've got a good handle on the right trim size and paper type combination, print an abridged version that includes a few finished pages (as well as some experimental ones, if you're still exploring things like fonts, margins, and more). You'll get to experience exactly how the paper feels, how the images look, how it reads in different lighting, how the binding lays—all sorts of useful insights to make sure your first full run or (or first full copy) turns out exactly how you want it to.
Blurb's types of paper
Armed with all this new paper knowledge, you can explore our paper selection with the confidence of a seasoned bookmaker. Below, you'll find each paper's weight, coating, printing characteristics, use cases, and its Forest Stewardship Council certifiability.

Have a look, and start imagining all the possibilities for your next project! We're breaking them out into paper options for photo books, Layflat books, trade books, and magazines—so you can quickly find the paper right for your project.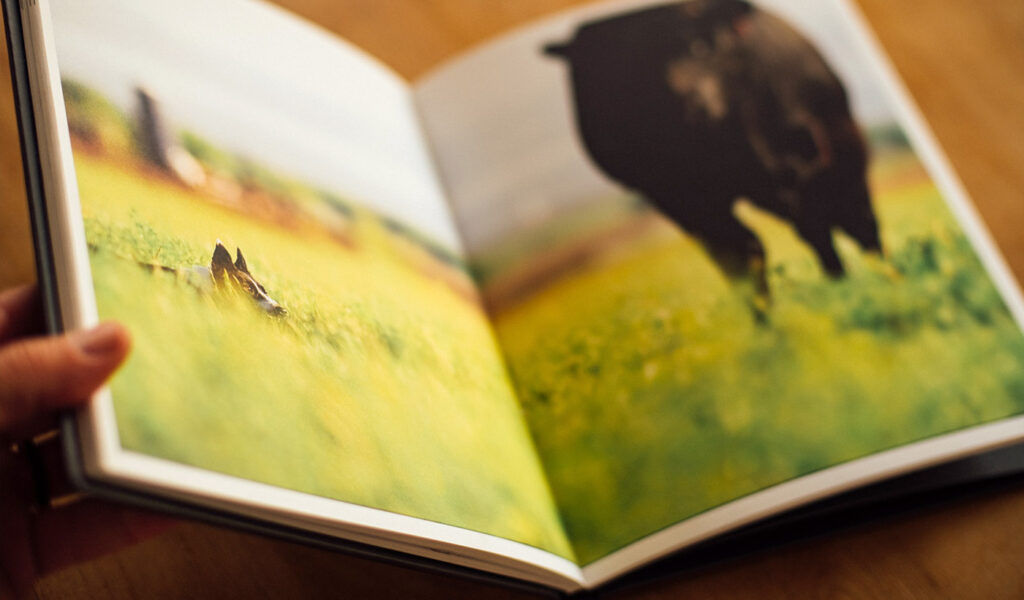 Photo book paper types
Blurb photo books are ideal for memorializing any occasion, from weddings to birthdays, baby books to travel albums. And because each project is so personal, we give you the option to choose exactly the right paper for your book.

If you're a professional in the art or photography world, you might gravitate toward photo books for client presentations—so we offer you the widest variety of paper options as well!
Mohawk proPhoto Pearl
If you're looking for a luxurious, high-end paper that will make your images pop and your book last for generations, Mohawk proPhoto Pearl is the perfect paper type choice. In fact, this acid-free, archival-quality paper means that your book will last for more than 200 years without deteriorating. The pearl texture of the paper gives your book a high-end look, and the paper's superb vibrancy and color reproduction make it ideal for photography books.
This paper is FSC certifiable which means that it's also better for the environment, while the high whiteness ensures that your images will stand out. And if you're worried about minor spills or dirt, don't be—this paper is water and dirt-resistant.
Crafted by the highly respected makers of paper for photography and design books: Mohawk Fine Papers.
Best for: Photo books featuring images with warm colors and skin tones, deep blacks, and silvery greys.
Mohawk Superfine Eggshell
Crafted to communicate elegance and refinement, our Mohawk Superfine Eggshell is a heavyweight text paper with an eggshell-textured, uncoated finish. It's acid-free for archival-quality books and FSC certifiable, for pro-planet printing. This ultrabright white, high opacity paper will make your colors truly shine while the uncoated surface absorbs ink for a more artistic look and feel. Just note that this paper will magnify grain.
Manufactured by Mohawk Fine Papers, one of the most respected makers of paper for photography and design books.
Best for: Illustration, printmaking, collage, watercolor painting—or any type of fine art project. Also wonderful for photography books where you want an artisanal look.
Premium Lustre
Our Premium Lustre paper is a great choice for any project that includes a lot of full-color images, like photography books and cookbooks. The gloss coating on this paper type gives your book's images sharper and brighter colors. Because the sheen from the gloss can reflect a lot of light, we recommend using this paper type for projects with little text.
Best for: Yearbooks, family photo books, comic books, and other image-heavy publications that benefit from a bit more gloss and a heftier page
Premium Matte
Choose this premium matte paper type for photo books that are text and information-heavy. This medium-weight paper, built for text, has a matte coating that gives off very little shine in both the print and unprinted areas. This matte coating will keep your text legible and avoid eye strain, particularly in direct sunlight or in places with bright, direct lighting. Some authors use a matte finish to give art a soft, washed, somewhat chalky look.
Best for: Photography and art books with a gentler, more subdued feel. Paintings and drawings in particular are best represented in matte (but if you're a fine art creator, try the Mohawk Superfine Eggshell).
Standard
Our standard paper allows for books up to 440 pages—so if you're going big, this is the paper for you. This lightweight paper features a semi-matte coating that offers less sheen than a gloss-coated paper and much less glare. The paper's surface is smooth, which means that you'll have high-quality image reproduction—perfect for print designs where both images and text are equally important for readability.
Best for: Gallery books, memorial books, or any other lengthy book where text and photography hold equal weight. It's a perfect combination of quality and affordability.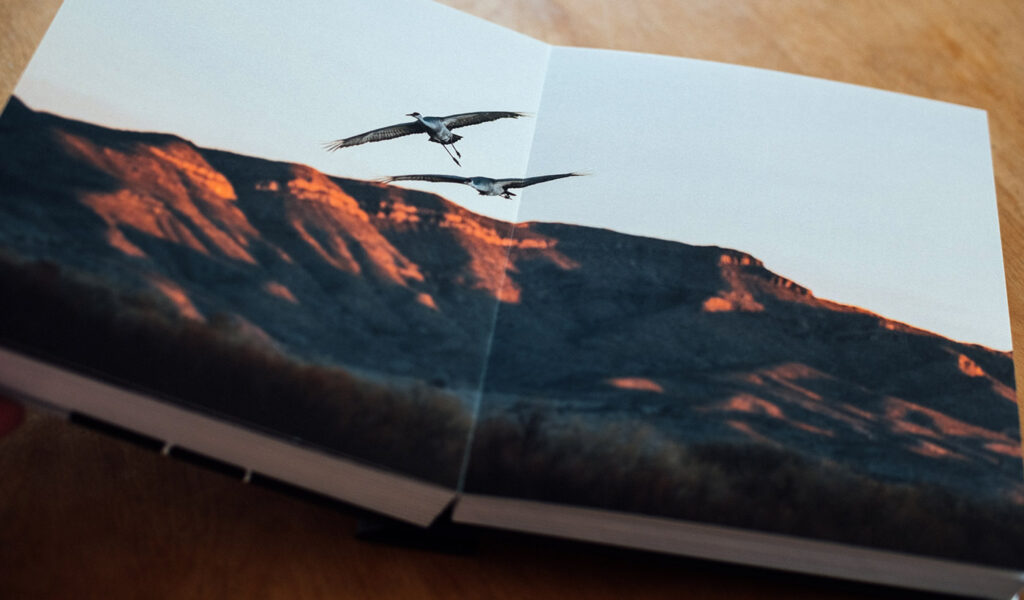 Layflat photo book paper types
For those times when you want to create a book that truly wows, choose a Layflat photo book. Without a gutter, your images can flow edge-to-edge of your spread for a panoramic experience as you flip through your book.
Ideal for client-facing work or memorabilia, Layflat books allow you to choose from our most premium paper types.
Mohawk ProPhoto Pearl – Layflat
Our heaviest Layflat paper option offers extra heavy weight, triple thick pages. This allows your pages to lay flush without a center gutter—built for breathtaking panoramic image spreads. The paper's pearl texture on high-end photographic paper means awe-worthy vibrancy and color reproduction. Of course, it's also archival-quality with an age resistance of more than 200 years. Just note, this paper is available for books up to 110 pages.
Built by Mohawk Fine Papers, makers of the finest quality paper for artists and designers.
Best for: Photo books with bright colors, warm skin tones, deep blacks, and silvery greys.
Mohawk Superfine Eggshell – Layflat
Our Mohawk Superfine Eggshell is an extra heavy weight, triple thick paper with an eggshell-textured, uncoated surface that is designed to communicate polish and sophistication. The premium binding process means your book (up to 110 pages) lays completely flat without a gutter—making this choice ideal for two-page spreads. It's acid-free and FSC certified, ensuring the long-term preservation of both your book and our environment. The uncoated surface absorbs ink for an artistic feel while the ultrabright weight, high-opacity paper creates vibrant colors.
Created by Mohawk Fine Papers, a leading manufacturer of fine papers for photography and design books.
Best for: Fine art projects like gallery books for illustrations, prints, collages, watercolors, and more. It's also perfect for photography books aiming for an artisanal feel.
Premium Lustre – Layflat
With two versions of our Premium Lustre Layflat paper, you'll always get locally sourced and locally produced gorgeous, layflat books.
For North American bookmakers
The Premium Lustre Layflat paper sourced locally in North America features extra heavy weight and triple thick pages. It's especially popular for its glossy coating that presents sharper and brighter images. If your book will be mostly pictures, especially double-page spreads without a center gutter break, this is a great choice. Due to the amount of light that reflects off the sheet, text may not be as legible as on other types of paper.
With a good balance of cost and quality, this is a fantastic choice for books up to 110 pages. It's also FSC certifiable, for more environmentally responsible printing.
Best for: Yearbooks, family books, and any photo book that benefits from more gloss and a weightier page.
For European bookmakers
The Premium Lustre Layflat paper sourced locally in Europe is slightly different than the North American variety, which helps to reduce the paper's carbon footprint for our customers in the UK and Europe. (This also happens to mean you get your orders faster and with lower shipping costs.) The extra heavy weight, double thick pages lay completely flat when opened—a printing method that's become increasingly popular for its clean look. The result is a book that feels substantial in the hand and displays photos across two pages without the center gutter break.
The premium silk paper and matte lamination provide less sheen and glare than gloss-coated paper, giving your art a soft, washed, somewhat chalky look. The lamination provides added protection and durability—making this paper ideal for creators looking to balance cost and quality in books up to 110 pages.
Best for: Wedding albums, baby books, and all books that would be best with a matte look and feel.

*Shipping to Austria, Belgium, Bulgaria, Croatia, Cyprus, Czech Republic, Denmark, Estonia, Finland, France, Germany, Greece, Hungary, Iceland, Ireland, Italy, Latvia, Lithuania, Luxembourg, Malta, Netherlands, Norway, Poland, Portugal, Romania, Serbia, Spain, Sweden, Switzerland, United Kingdom.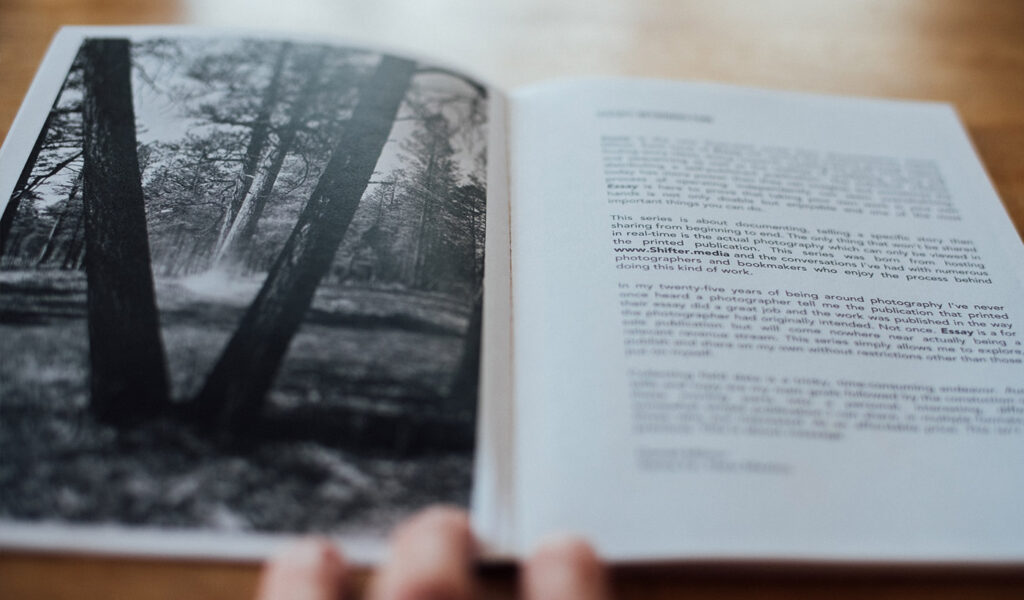 Trade book paper types
Priced for sharing and selling, trade books provide you with a wider margin for the times when you want to order and distribute multiples. Choose from a variety of professional-quality paper types that not only look great but also are affordable.
Standard Color
Our uncoated, bright-white finished Standard Color paper allows for printing on our highest-quality four-color print machines. That means your book (up to 480 pages) prints featuring rich, black ink and deep colors. This paper type provides a slightly smooth surface with some texture and feel. This lightweight text paper is ideal for full-color images that take up the entire page.
Best for: Notebooks and journals, along with books featuring photos, paintings, collages, illustrations, and graphics.
Economy Color
Choose this lightweight text paper with an uncoated, bright-white finish for books (up to 480 pages) that have graphics, art, or little pops of text color—all at a lower price point. This makes Economy Color paper a great, cost-effective way to have color printing in your pro-quality book. The slightly smooth surface also features some texture. Popular with some creators and their photography books, you'll want to note that images should stay small and will likely have a lo-fi look.
Best for: Notebooks and journals, plus zines and poetry books combining text and smaller images.
Standard Black and White
Pick our Standard Black and White paper for books that don't require color but still have lots of detailed illustrations, graphics, or line art. This extra lightweight text paper is uncoated, white paper boasting a slightly smooth surface with just a hint of texture. It's a great way to show off art for books up to 480 pages.
Best for: Black and white comics, coloring books, and poetry books with line art.
Economy Black and White: White or Cream
Crafted for novels, memoirs, and how-tos, our Economy Black and White paper is available in both white and cream. Choose this extra lightweight text paper for books that don't rely on color or images. The uncoated paper has a smooth surface with just a little texture, feeling great in the hand. Go with the cream color for text-dense books, which helps reduce eye strain when reading.
Best for: Anthologies, essays, and nonfiction or fiction books—really, it's a great way to economically print any text-heavy publication!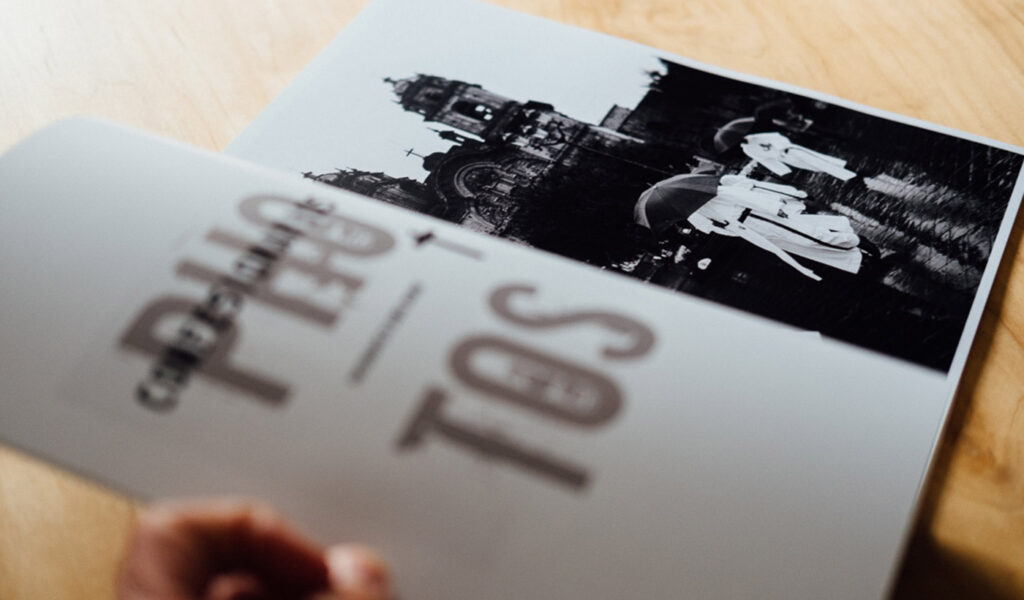 Magazine paper types
If you're planning a recurring magazine publication, a low-cost portfolio, or even a comic book or zine, magazines are made for you. Our magazine paper options keep costs low while continuing to keep standards high.
Economy
Printing on par with magazines you'd find at your local newsstand, Economy magazine paper is a lightweight text paper that has a smooth, silky paper surface. This paper type provides a polished look without the mirror effect found in a high gloss finish. The high whiteness results in excellent contrast for four-color printing quality that's great for mostly text magazines with small photos and illustrations. It's a cost-effective option with standard print quality for up to 240 pages. Note that the matte cover has no UV coating, so keep it out of the sun.
Best for: Short fiction monthlies, niche publications, and magazines with a mix of graphics, illustrations, and text. For photo-heavy magazines, consider the Premium paper option.
Premium
This velvety, matte finish Premium paper renders photographs, drawings, and designs beautifully. This paper is fantastic for full-color images that take up the entire page—like those found in photography journals, fashion magazines, and more. The matte cover has a satin UV coating and can hold up to 240 pages.
Our premium paper is also FSC certifiable, meaning it allows you to print while being responsible for the planet.
Best for: Photography-heavy pieces, like fine art magazines, comic books, and fashion publications.
Ready to pick your paper? Get started with a photo book or trade book, today!