Melbourne's Waterfalls - 311 Waterfalls Within 100km of Melbourne
Volume Two - Northern Waterfalls
by Travis Easton
This book is available to buy on Amazon
About the Book
When I started this project if someone had told me there was a 75 metre high unmapped waterfall within 50km of a city of four million people I wouldn't have believed them. The fact that this is merely the tip of the iceberg has been a revelation.

In 2007 I began a quest to visit every waterfall around Melbourne, imagining it would take me a few months
to complete. The eight year journey of discovery I have been on since then has been beyond all expectations.
After visiting all the waterfalls on current maps, I started finding other drops in old books, photos and vintage maps. As my familiarity with the terrain around Melbourne increased, I began wandering down likely gullies and
started finding waterfalls. This slowly expanded into a systematic examination of the topography of all likely
waterways around Melbourne, and to my amazement has resulted in many more waterfall discoveries. This trilogy is the result and documents all the waterfalls I could find both popular and unmapped within a 100km radius of Melbourne.

Melbourne's Waterfalls, Volume Two: Northern Waterfalls documents 151 of these waterfalls
(plus another 22 water features of interest), and in total includes the details for 322 tiers.

A mass produced version of this book is now available on my website www.telp.com.au for AU$40.00.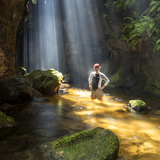 Australia's rugged landscape is an important part of my life and over many years I have developed the necessary skills and stamina to explore some of the more remote parts of it on foot, ski, kayak and rope. I usually travel alone so I can take my time capturing the essence of these places without distraction. Life slows down and after a while I feel like I begin to merge with the land, nature takes me into her confidence and changes me. Preserving these areas is very close to my heart and if my pictures can instil an appreciation for these environments and their intrinsic worth then all the better.