Behind the Scenes with Dean and Britta
by John Wareham
About the Book
An inside saga within an album of candid milestone moments.
Features & Details
Primary Category: Biographies & Memoirs
Additional Categories Romance, Entertainment
Project Option: Standard Landscape, 10×8 in, 25×20 cm
# of Pages: 66
Isbn

Hardcover, ImageWrap: 9798210920034

Publish Date: Sep 06, 2023
Language English
Keywords

Galaxie

,

progressive rock

,

Luna

,

Phillips

,

Wareham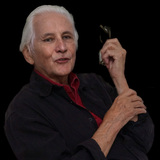 John is a leadership consultant, lecturer, writer, teacher of transformational programs for prison inmates (and a serious photographer). He is founder and chair of The Eagles Circle Foundation, a New York registered 503c corporation developing community leaders from within the prison population. His works include: • How to Break Out of Prison, a crossover life-changer targeted to prisoner denizens and 'corporate inmates' trapped in lives they do not want; • The President's Therapist and Chancey On Top, metafictional novels exploring the similar dilemmas of duplicitous leadership and illicit love; • How to Survive a Bullet to the Heart, an anthology of prisoner poetry; • Sonnets for Sinners, poetry for incarcerees inside 'the asylum of forbidden love.' • The Pulitzer Prize nominated podcast series, The Breakout Plan, which now has listeners worldwide in more than 400 cities.