James The Computer Guy
by James Phipps
This book is available to buy on Amazon
About the Book
Introduce your child to the magic of technology with "James the Computer Guy" - a fun and engaging children's book that tells the story of a computer wizard named James and his amazing abilities to create magic with his computer buttons. Written in the style of Dr. Seuss, this book is perfect for young readers as they learn about the incredible things that can be achieved with technology.

Your child will be amazed by the endless possibilities of technology and will learn how technology can be used for good. With colorful illustrations and catchy rhymes, this book is sure to become a favorite for your little one.

"James the Computer Guy" is a perfect way to spark your child's interest in technology and inspire a love of learning. Whether you're reading it together or encouraging independent reading, this book will be a great addition to your child's library. Order your copy today and let James' computer magic take your child on an exciting journey of discovery! In addition, eighty percent of the profit from the sales of this book will be donated to STEM projects in Mississippi. My hope is that this book will help to create new opportunities and open doors for upcoming generations in more ways than one!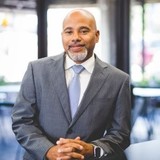 With more than two and a half decades of experience in the IT industry, I'm determined to use my success with BeCloud - an innovative Jackson, MS - based consulting firm - to inspire the next generation's love for computers and technology.