Platinum Ice!
70 Years of Brotherhood at ECSU
by Tyrone L. Ward
This book may be found in online bookstores, like Amazon.com, using the ISBNs below:
Softcover ISBN:
9798211611016
About the Book
Platinum Ice! celebrates 70 years of the Beta Zeta Chapter of Alpha Phi Alpha Fraternity, Inc. ® on the campus of Elizabeth City State University. But more than that, the book looks at the chapter's history in great detail - the ups and the downs. The impact of the chapter on the campus and in the community is thoroughly examined, as is the impact of it's individual brothers on larger stages in a wide variety of professional careers. Endless photos bring history to life in this journey through time that will recount memories for some, and inspire others to achieve greatness and keep a legacy alive!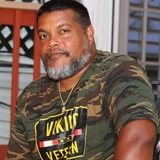 Born in Poughkeepsie, NY and raised in Rich Square, NC, Tyrone L. Ward is a graduate of Elizabeth City State University. He earned a B.S. in Mathematics in 1993 and went to Officer Candidate School in Newport, RI where he was commissioned as an Ensign in the U.S. Navy. Ward was assigned at Fort Meade, MD (2); Norfolk, VA (3); Monterey, CA; Kunia, HI; Yokosuka, Japan; Fort Gordon, GA; Misawa, Japan; deployed to the Mediterranean and Caribbean Seas, the Atlantic, Pacific and Indian Oceans; and has traveled extensively in Europe, Africa, North/Central America, Asia, Australia, and the Middle East. In his penultimate tour, he served as the Commanding Officer of U.S. Navy Information Operations Command Misawa. After nearly 28 years of service, Ward retired from the Navy in 2018 as a Captain/O-6. He is currently a part-time consultant and an active member of Alpha Phi Alpha Fraternity, Inc. Along with spending time with his family, he enjoys traveling and documenting biographical history.