The Op-Ed of Leadership
Getting out of the mess
by Yves Doucet
About the Book
In his book, The Op-Ed of Leadership, author Yves Doucet offers his discoveries of leadership practices and pillars to build a life of peaceful leadership. Sharing intensely private stories of his career and personal life, he provides genuine examples of how applying these life practices changed his life as a leader and a person.

Yves explains how being stuck and always seeing a world that needed to change to have what he wanted created frustration and feelings of powerlessness. However, after years of reflection and practice, he realized that it was possible to create change by taking small steps in his own life. Yves emphasizes the importance of developing self-awareness, creating an environment of truth, and practicing authentic communication in order to lead with integrity and inspire others.

This book is filled with poignant stories and lessons that can help anyone looking for more peace in their lives. Yves provides clear insights into how we can all become better leaders by making small changes in our own behavior. If you're looking for ways to develop your leadership skills and inspire others, then this book is definitely worth reading.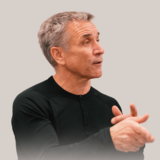 Meet Yves! He's our culture coach and master motivator at www.Dovico.com and the creator of www.ShowUp.io To the title aficionados out there, he is the principal owner. When Yves is not busy enriching the team's lives with positivity, he can be found at the yoga studio practicing and teaching yoga. Yes! He's a Yogi too! Yves cites his son's creative patience and daughter's focused determination as his biggest inspirations. His most significant accomplishment is his recent realization that he is truly responsible for the life he leads; Yves' life-altering consciousness is the product of relentless study and putting in the difficult work. Random facts about Yves? He is a TEDx speaker (Titled: Darwin and the Millennials) and a certified Baptiste Yoga teacher. Interests: studier of human behavior / focused on becoming better at the things that give him energy / Dancing / Cooking / Yoga / Snowboarding / Cycling / Innovation / Building Things / Culture Coaching