Harry the Heartbroken Hobo (v2)
by Megan Lappas
About the Book
Harry was a happy kid who had dreams about his future. After unfortunate events, Harry ended up homeless at a young age. Without any direction, guidance, or people to help him or love him, he travelled alone. His journey finds him lonely, sad and scared, and eventually searching for the bright green bottles that seemed to make him feel a little better. Until one day, his heart breaks and Harry eventually finds what he needed all along.
Enjoy this great way to start the conversation with youngsters and adults alike about the struggles of homelessness and the power of a little empathy and compassion.
Thirty percent of any proceeds will go to two non profit organizations who support these efforts (15 percent each) in the Knoxville, TN community.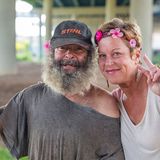 I've worked with people experiencing homelessness in Knoxville, TN for twenty years and in several different roles. I assisted people on the streets into housing, was a case manager at a permanent supportive housing complex for the chronically homeless, and did street outreach with our most vulnerable who sleep outside. I have learned what works. In order for our neighbors on the streets to heal, they must have a home, safety, privacy, people around them who care, things to do, and to be noticed as an individual. The transformations I have witnessed throughout my career have been amazing, heartwarming, and inspire me to never give up hope. Special thanks to the Illustrator, Scott Lappas, my dear friend, Tumbleweed, Lauren Hawley, Bill Foster, and Bethany Bernhardt.