How to Photograph Night Sky 2022
The Complete Guide to Astrophotography perfect for your digital camera
by Angelo Perrone
About the Book
HOW TO PHOTOGRAPH THE NIGHT SKY is a photography book written by Angelo Perrone with the intention of instructing the amateur and expert photographer to learn the technique of night landscape photography, photography with Astro tracker, Deep Sky photography and Startrail. This manual covers the topic from A to Z regarding the use of SLR and mirrorless cameras in Astrophotography.
Post-production shows how to stack astronomical images and the ideal workflow to achieve excellent results with the Astro Panel 5 software.
Angelo Perrone deals with Night Landscape Photography, post-production astrophotography, deep Sky and Milky Way. He organizes workshops throughout Italy during the year and is the author of Astro Panel, one of the best plug-ins for Adobe Photoshop CC.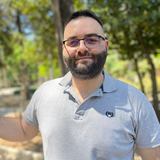 Fin da piccolo sono stato affascinato dal Cielo Stellato e dall'astronomia, dalla Geografia e dalla voglia di girare il mondo e dalla Fotografia. Dopo la scuola ho cominciato a lavorare come Tecnico Informatico e ho trovato nell'astrofotografia Paesaggistica la mia grande passione. Tutto è cominciato quando mi sono imbattuto nelle foto della Volta Celeste realizzate nel lontano 2011, e ispirato da fotografi come Maurizio Pignotti e Michael Shainblum (per citarne alcuni), ho cominciato a sperimentare...