Mummy Brown
The Complete Color Profile
by Ryan Demaree
About the Book
Roughly 200 years ago, artists were painting with the pulverized remains of Egyptian mummies. This color was available in art shops until the mid-20th-century when it disappeared due to laws and scarcity of mummies to make paint from.

The unique opportunity has presented itself for this color to be adequately documented. I reproduce this historical color using Egyptian mummy fragments from the revered Billy Jamieson collection. The fragments that I have obtained are said to have once been housed with Ramses I in the Niagara Falls History Museum, which Jamieson purchased in 1999. The result is the comprehensive never before seen color profile for this fabled color.

Join me in my quest for Mummy Brown!
Features & Details
Primary Category: Arts & Photography Books
Project Option: 5×8 in, 13×20 cm
# of Pages: 120
Isbn

Hardcover, ImageWrap: 9781034986751
Hardcover, Dust Jacket: 9781034986768

Publish Date: Jan 14, 2022
Language English
Keywords

macabre

,

art history

,

mummy brown

,

mummy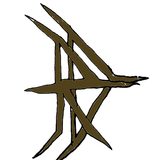 Born and raised in Columbus, OH [USA]- October 28th, 1991 - "In my work, I like to focus on themes of Primitivism, Science-Fiction, and Mythology. I use a variety of techniques to achieve these themes, primarily- Abstraction and Surrealism. I am also heavily interested in the history of oil painting and conduct independent research on historical painting materials, which influences the materials that I use for my work. I work both on an independent as well as a commission basis. " -Ryan Demaree Author of the book "Mummy Brown- The Complete Color Profile"