Silk on The Road
Paintings and Poetry
by Jeffree Skewes
About the Book
In Silk on the Road, painter, artist, educator, poet, mentor and writer Jeffree Skewes, has paired selected artworks from the 1980's to 2018 and later adding his own free-verse poetry for each one, to cast his own light onto the well known metaphor of 'life is a journey'.
In Silk on the Road, he further embellished this trope with the premise that if life is a journey then what roads do we travel? For Jeffree he chose the Silk Road, which for him are lined with and sometimes covered with silk, that rare and luxurious material to convey and promote a poetic message of adventure, discovery, endurance, patience, struggle, inclusion and underscored with some wise old ideas of peace, harmony and beauty.
Skewes' Silk on the Road journey, takes place in his dreamed up landscapes, places and abstract fields, all drawn from his imagination and subconscious dream-time. It is an assemblage and celebration poetry and visual artworks originally exhibited in an art gallery and shared here now, in this small (travel-sized) book edition
Hopefully this special type of travel persists and conjures inspiration and enjoyment.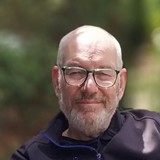 Jeffree Skewes has been making art and contributing to his local art scene since the early 1980's as a painter, multidisciplinary artist, art teacher, writer and mentor. He lives and works in Canberra, Australia's national capital.